Wicker doll prams have gained significant popularity in the United Kingdom due to their timeless appeal and charming aesthetics. These miniature prams capture the hearts of both children and adults, making them a sought-after toy for little ones and a cherished collectible for enthusiasts. Here's an overview of why wicker doll prams have become so popular in the United Kingdom :
Why wicker doll prams popular in United Kingdom?
Nostalgic Charm of rattan doll pram
Wicker doll prams evoke a sense of nostalgia and remind people of a bygone era. Many parents and grandparents fondly recall playing with similar prams during their childhood, creating an emotional connection to these classic toys. The vintage-inspired design and intricate wicker weave of the prams add to their charm, making them highly desirable among those seeking a touch of traditional elegance.
Read also : Best Rattan Doll Furniture Collections
Doll Pram can help engaging in Role-Play and Imagination
Children love engaging in imaginative play, and a wicker doll pram provides the perfect vehicle for their creativity. Whether playing the role of a caring parent, a doting sibling, or a responsible babysitter, children can immerse themselves in various role-play scenarios with their dolls. The rattan doll pram becomes an essential prop in their make-believe adventures, fostering storytelling skills and nurturing empathy and social development.
Aesthetic Appeal of Rattan Toys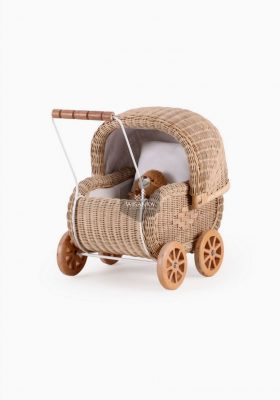 Wicker doll prams exude a unique and captivating beauty. The natural texture of wicker combined with the craftsmanship and attention to detail make these prams visually appealing. They effortlessly enhance the overall decor of a child's room, adding a touch of sophistication and whimsy. Wicker doll prams often become decorative.
Quality and Durability Toys
Wicker doll prams are known for their exceptional quality and durability. These prams are crafted using high-quality materials and traditional weaving techniques, ensuring they can withstand the rigors of playtime. The sturdy construction and attention to detail contribute to their longevity, making them a reliable investment that can be passed down through generations.
After knowing several reasons why wicker doll prams are popular in United Kingdom, it might make you interested in owning one, right? If you're searching for a charming and timeless toy for your little one, a wicker doll pram is a perfect choice. These miniature prams add a touch of elegance and nostalgia to playtime, capturing the hearts of both children and collectors. In this article, we will guide you to the best supplier of wicker doll prams for exported in the United Kingdom. 
Read also : Best Selling Rattan Kids Toys in United States
Supplier for exporting wicker doll pram to the United Kingdom
Indonesia Kids Furniture is one of the best supplier of wicker doll prams in the United Kingdom offers an extensive collection, catering to different preferences and styles. From classic designs with intricate wicker weaves to modern variations with stylish accents, you'll find the perfect pram that matches your child's imagination and personality. With various sizes, colors, and finishes available, the supplier ensures a diverse range of options to choose from.
Indonesia Kids Furniture uses high quality materials
When it comes to wicker doll prams, quality craftsmanship is of utmost importance. Indonesia Kids Furniture sources prams from skilled artisans who pay meticulous attention to detail. These prams are crafted using premium-quality materials and techniques, ensuring durability and long-lasting beauty. From sturdy frames to smooth rolling wheels, every aspect is carefully crafted to provide an authentic and enjoyable playtime experience.
Our prams undergo rigorous safety checks and meet the necessary standards, providing you with peace of mind. The prams are designed with smooth edges, secure handles, and stable structures, ensuring a safe and enjoyable playtime for your little one. Adjustable hoods and removable bedding add to the convenience and versatility of the prams.
Read also : Top 5 Wicker Doll Prams for Your Little One in Australia
Indonesia Kids Furniture has a strong reputation for excellent customer service and high-quality products
We also have a strong reputation for excellent customer service and high-quality products. Positive reviews from satisfied customers attest to our commitment to providing top-notch prams that exceed expectations. We also offers convenient ordering options and reliable delivery services. Our website provides a user-friendly interface, allowing you to browse through our collection and place orders with ease. Fast and secure shipping ensures that your chosen pram arrives promptly and in pristine condition, ready to bring joy to your child's playtime.
We as the best supplier in the United Kingdom ensures a delightful and hassle-free experience. Explore our range of wicker doll prams and witness the timeless elegance and endless joy these enchanting toys bring to your child's imaginative play.