We have been to be a furniture exporter and manufacturer for more than 25 years to more than 60 countries in the world. In the last 3 years, we have tried to develop children's toys product made from natural rattan, which handmade and environment friendly. Starting from the horse rocking chair, tea cup set, kitchen set, doll accessories, such as doll crib, doll bed, doll chair, doll pram, doll hanging chair, and doll house. Because the high market demands and many people who more to choose toys made of rattan. Australia, Netherlands, Poland, United States, Singapore and Argentina as the countries of origin of our regular customer, have distributed more than tens of thousands of our products. Every month more than 10 containers of our products are shipped to these countries. United States (US) is one of the countries that has a high market demand for our rattan toys.
Here are some of the best selling rattan kids toys in the United States :
Rossy Rattan Doll Pram
Your little daughter can go out on an adventure with all their favorite dolls and teddys with this Rossy doll pram. The handmade rattan doll stroller features wooden wheels with rubber making it as quiet as possible while strolling through the living room. Combine the doll stroller with the doll bedding (sold separately) so your little one's dolls and plush animals may enjoy their ride even more. Rossy doll pram available in two colors, lime yellow and natural.
Tracey Rattan Doll Pram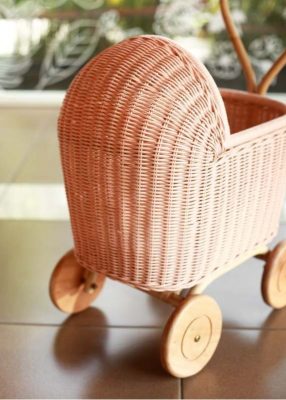 Tracey rattan doll pram always be a best selling kids toys in several countries, especially in United States. A unique willow stroller for your daughter favorite toys. The rattan stroller can be used as an original gift for friends and colleagues. Each Tracey Rattan Doll Pram is uniquely hand made of sustainable rattan and make the perfect entertainment for little ones. The wheels and the base of the carriage are made of solid wood. Wooden wheels allow easy riding around the flat of your favorite toys. With their durable design, adorable muslin bedding we're sure that your little one will love and cherish these stunning toys.
Sunrise Doll Crib
A beautiful heirloom toy, which can be passed down for generations of play. It's perfect for play with friends or for role play at quiet time. Your little one can practice their nurturing skills by tucking their much loved teddy or doll into bed.  Our rattan doll crib are designed and handcrafted with love. Due to the natural materials and hours of craftsmanship, these timeless products sometimes have slight imperfections and can vary in color consistency due to the natural rattan. It has a thick mattress with a cotton cover that removes for easy washing.
Leia rattan doll bed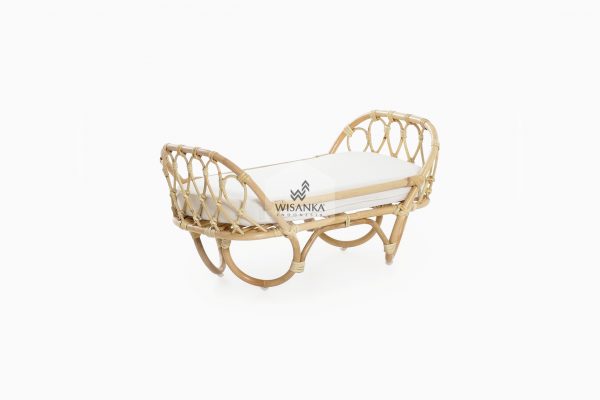 Leia rattan doll bed will provide the basis for endless play. Children love to play mummy or daddy, placing their soft toys under blankets and telling them made up stories. This small handmade rattan bed is perfect for dolls and teddies. Stylish and Sustainable, Our collection lends a sense of calm, comfort and a bit of boho to your home. They are light weight and sturdy, making them easy to move around your home. Carefully handcrafted with love, and a true treasure which we are sure will be handed down through the generations to come.
That's our several rattan kids toys that be best selling in United States. All of our product have high quality and safe for children and babies. Actually we still have some furniture with good sales in various other countries. Check out our next article to find out trends in children's and baby furniture. For more kids and baby furniture you can go to the product page.