If you're in the market for a wicker doll pram in Australia, you'll want to find one that's both stylish and functional. We've compiled a list of the top 5 options available, so you can choose the perfect one for your child's playtime needs.
Our Wicker Doll Pram Collections
The following is our newest doll pram collection. Comes with a variety of sweet colors, and beautiful designs, we are sure you will fall in love the first time you see it. Lightweight in shape, and sturdy in construction, these five pram dolls from our selection are perfect for your little one. Because the design is adjusted to the height of the child in general. This toy can also be used to train your child to walk
Tracey Wicker Doll Pram
The Tracey Wicker Doll Pram White is a stylish and functional option for your child's playtime. Made from natural rattan, it features a removable and reversible mattress, a storage basket, and a handle that can be adjusted to two different heights. Plus, it's lightweight and easy to maneuver, making it perfect for little ones to push around. Your child will love taking their favorite doll or stuffed animal for a stroll in this beautiful pram.
Nessa rattan doll pram
Kids will love taking their dolls everywhere they go with this Nessa Rattan Doll Pram. Perfect for pushing their dolls and teddy's around, this toy also helps little ones with their push & pull and balancing skills. Featuring a natural rattan carriage, wooden wheels and handle finished with a rattan trim. Lined with natural coloured and includes mattress and pillow. Outstanding quality to ensure adventures with dolly can continue for years to come.
Win rattan shopping trolley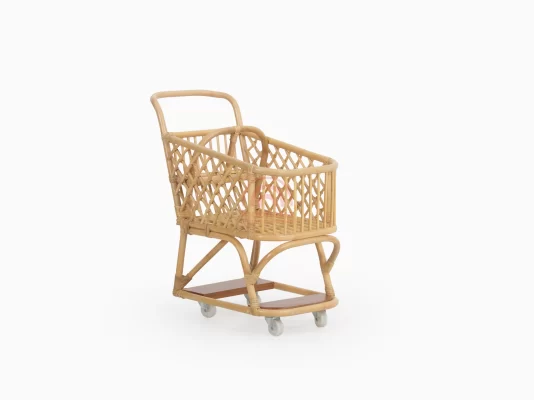 Win rattan kids shopping trolley, a fun and functional addition to your child's playtime. This adorable toddler-size shopping cart is perfect for pretend play and trips to the supermarket. Our doll's shopping trolley is made ethically with love and care in Indonesia, each piece is made by hand and patience to ensure that they will last generations of play. This rattan shopping cart with doll seat makes the ultimate playroom accessory and can be used to store your little one's dolls when not in use.
Zio rattan doll pram
Zio rattan doll pram, perfect for little ones who love to take their dolls places and go on adventures. Comes complete with a 100% cotton mattress cover and thick mattress, to ensure your little ones specials toys are kept safe and comfortable This rattan doll trolley uniquely hand made of sustainable rattan and make the perfect entertainment for little ones. Lends a gorgeous vintage touch to any playroom.
Castle Wicker Doll Pram
A beautiful vintage style dolls pram, the newest heirloom piece from Indonesia Kids Furniture. Castle rattan doll pram has a classic design that will be a favorite for children to play with. Crafted of high-quality wickerwork in Indonesia and set on a wooden base, this rattan doll stroller is perfect for taking a favorite doll or teddy bear on a walk. Lightweight, compact in size, and easy to push inside or out, the pram comes with a sweet cushioned bedding set to keep dolls cozy should they fall asleep while out for a stroll.
Kids Furniture Supplier
You can find the above wicker doll pram in Australia. Isn't it interesting the designs and models? If you can't find it in Australia, you may have the opportunity to become a distributor of our kids products. Because the demand for our products in the Australian market is very high, you can complete them in your shop. You can contact our marketing to get the latest catalog and price list.