Toys are one of the interaction tools that can help your little one grow and develop. However, girls' and boys' toys are certainly different, although there are toys that both can play with. Maybe you want to give this toy for your daughter's birthday, to serve as a gift. Want to give a special toy for your little one? Maybe you need help choosing the right toy.
Our Best Rattan Doll Furniture
If you are confused about what toys for girls to give, rattan doll furniture can be the choice. For that, below are some recommendations for girls' toys that you can choose.
Leia Rattan Doll Bed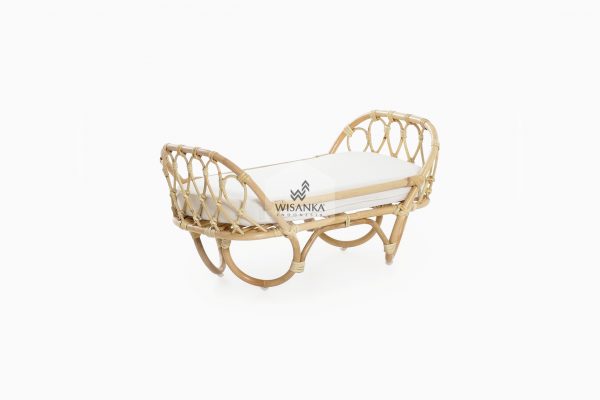 Leia rattan doll bed will provide the base for endless play. Children love to play as mom, placing their soft toys under blankets and telling them made up stories. This small handmade rattan bed is perfect for dolls and teddies. Stylish and Sustainable, Indonesia kids furniture collection lends a sense of calm, comfort and a bit of boho to your home. They are light weight and sturdy, making them easy to move around your home. Carefully handcrafted with love, and a true treasure which we are sure will be handed down through the generations to come.
Rossy rattan doll pram
Girls love to play with their dolls, they love their dolls as friends. For that, we present Rossy rattan doll pram with a fresher color, complementing your child's playing world. Kids can place their doll on it, so they can walk around the house or outside. Your little one can also play while going shopping at the grocery store by using it as a trolley. This doll stroller is made of full natural rattan, so it is not heavy for children to push. With a strong construction, this rattan doll stroller is durable to use for years.
Axel Rattan Doll Cabinet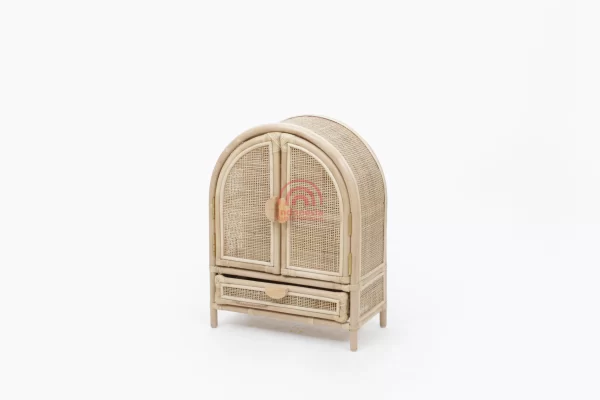 Axel Rattan Dolls Cabinet is the sweetest place to hang your doll's favorite knick knack neatly. With hanger and drawer in bottom, you can place in the living area, playroom or bedroom as a dolls house or a gorgeous rattan cabinet. Can also be used as a small night table.
Milla Rattan Doll Changing Table
Mila rattan doll changing table, a toy table that can be used for your child to change their diaper or doll clothes. This table is exactly like the original baby changing table. With 3 shelves, the top can be used for laying dolls and 2 shelves at the bottom can be used to store their doll accessories. Made with natural rattan, looks light, but very sturdy so that this toy can last a long time.
Rainbow Rattan Doll Cot
Rainbow rattan doll cot, a mini version of the Rainbow rattan baby cot. Made with the exact same shape and decoration, this doll bed can accompany your child when playing with his friends. This rattan-crafted bassinet is a charming play item for your little one, as well as a beautiful piece of decor for their nursery or playroom. made of rattan, equipped with a thick mattress as a base. recommended for children aged 3 to 6 years. To clean this rattan toy is quite easy, just wipe it with a soft cloth.
Sunrise Doll Bassinet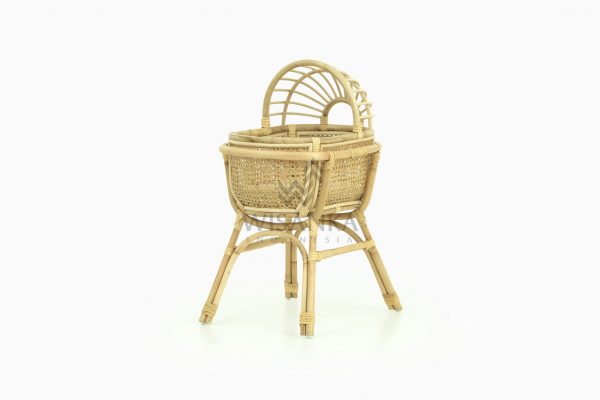 Sunrise rattan dolls bassinet is a beautiful heirloom toy, which can be passed down for generations of play. It's perfect for play with friends or for role play at quiet time. Your little one can practice their nurturing skills by tucking their much loved teddy or doll into bed. Due to the natural materials and hours of craftsmanship, these timeless products sometimes have slight imperfections and can vary in color consistency due to the natural rattan. The rattan doll bed has a thick mattress with a cotton cover that removes for easy washing.
Besides girls, we also provides rattan toys for boys. A complete selection of toys also makes it easier for you to choose according to their needs. Not only rattan toys for children, We also offers a selection of rattan kids furniture and nursery furniture. Those are some of the best rattan doll furniture recommendations from us. Have you found the right toy for your child?