Rattan Children's Bed | Not only as a place to rest, the design of a kid's bedroom must also consider its use as a play and study area. Therefore, arranging a kid's bedroom is a difficult thing to do. Because in this room there is not only a bed, but also a cupboard, study table, and various toys. Girls are usually attracted to cute and funny things. Boys like something masculine. One way to please your child is to buy him an attractive bed. However, the various sizes and designs of girls' beds can make you confused about choosing the right product. Don't worry, we will help you find a good and comfortable children's bed.
Here are best selling rattan children's bed in United States
Then, we will also review product recommendations for rattan children's bed that are popular in the United States. All of the products we recommend you can buy easily through our distributor shop, you know!
Farel rattan toddler bed
This bed is a perfect idea for a kid's room. If you add other wicker touches like the table, chair, a basket to keep their toys, you will have a very special space. Farel Rattan Kids Bed, make an adorable toddler, the ultimate statement piece in your kids' bedroom. These lovely wicker beds show that vintage touch which makes us fall in love at the first sight. With a stunning array of rattan, this unique piece of bedroom furniture features intricate, handmade details. If you are interested in farel toddler bed, you can see it here.
Edlyn rattan toddler bed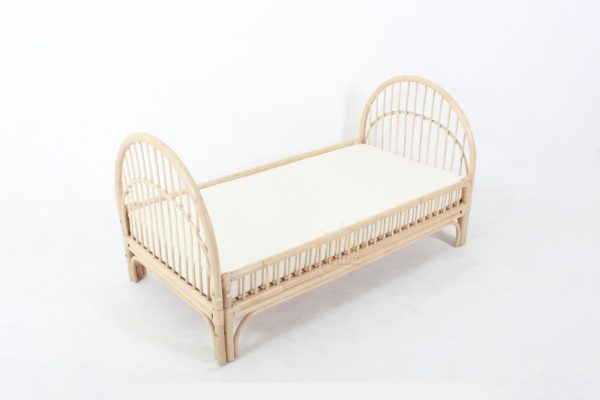 Edlyn rattan toddler bed makes a comfortable addition to your kid's bedroom interiors. With curved headboard and a footboard made from rattan to add a touch of natural, authentic stylings. Suitable for your child's bed when it is ready to separate from sleep with parents. With natural rattan colors add warmth to your room. Can be adapted to a variety of children's room concept designs. Can be an alternative if your child's room is not too large, because this bed does not require a large space.
Belova rattan kids bed
t
The perfect piece to make a super cute in Kid's room. Add organic vibes to your bedroom then look no further than investing in a beautifully handcrafted rattan bed. True statement piece and an item to offer in our range. Designed to fit Standard Kids Mattress Size. Your child can lie down and sleep soundly in his room on this bed. Made according to the standard size of a child's bed. With the right foot height, it makes it easier for your child to get up and get out of bed. With a curved shape, and not sharp in every corner, you don't have to worry about safety for your little one.
Flo rattan kids bed
The Flo Rattan Kids Bed is the perfect piece to bring natural, authentic stylings into your little one's bedroom, in such a unique way. This piece truly creates a relaxing and tranquil setting for your little adventurer, while infusing natural elements into their daily environment. This bed can be separated into a kids chair and a children's table.
Marion Rattan toddler bed
Marion rattan mini toddler bed makes an adorable toddler or baby. Designed to work in with the modern bohemian look that's so popular at the moment, these pieces slot beautifully into pretty nurseries. This kids bed lovingly handcrafted from the highest quality natural rattan and built to last, this designer piece will be with you for years to come. Our rattan products are designed and handcrafted with love. Due to the natural materials, these timeless products sometimes have slight imperfections and can vary in color consistency.
We have recommended products for children's rattan beds that are popular in the United States. Is there a product your child likes on our list of recommendations? To be safer, choose a bed according to your child's age. Especially if your child is still a toddler, you should choose a bed that is not too high. To find out more complete information about our children's rattan furniture collection, you can click on the contact us page or you can ask directly with our marketing staff via live chat.