Recommended toy collections – Every child thinks there is nothing more fun than playing. One of the games that children like and maybe you have also experienced as a child, is role playing. While playing the role, children seem to enter into their own world, which is full of magic and adventure. According to many experts, playing an important role for the emotional, mental, intellectual, and even physical development of children. Other benefits of role playing are building self-confidence, increasing creativity and resourcefulness, developing language skills and many more. So that your little one doesn't get bored easily, you should also use a toy that can be brought to accompany your little one. Come on, take a peek at some of our toy collection recommendations.
These recommendation toys for role-play :
Milla rattan doll changing table
With Milla doll changing table, your child can play the role of a mother caring for their baby, their doll. They can pretend to change their doll's clothes or diaper on this changing table. Made exactly like a real baby changing table, this doll changing table consists of 2 shelves, top and bottom. Top shelf for laying dolls, bottom shelf for neatly placing doll accessories. Equipped with a cushion on it makes this changing table even more real. With this toy, your child can feel how to care for their doll with love.
Kiddo rattan kitchen stand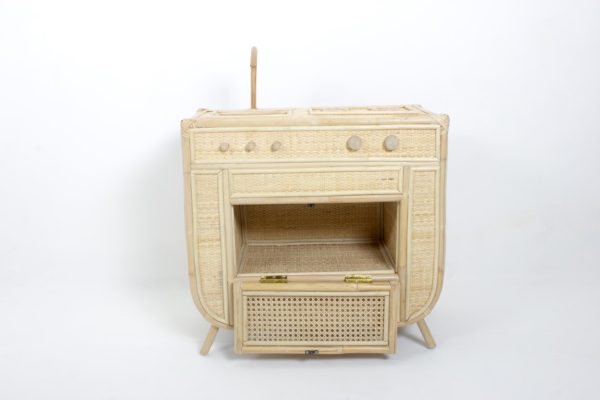 Cooking toys are the most common thing girls do. This is because they often see their mother cooking and they want to imitate her. Currently, there are a lot of cooking toys on the market. Of various shapes, materials, types and sizes. However, we have a collection of multifunctional Kiddo kitchen stand toys that can accompany your child to play cooking. In this toy, there are several kinds of toy furniture. At the top there is a stove with a button on the front. Next to the stove, there is a sink complete with a water faucet, which is used as if your child is washing eating utensils. At the bottom there is an oven that can be opened for your child to pretend to bake their toy bread. This toy is wrapped with full rattan woven so that it makes this toy unique and beautiful.
Lupin rattan toy refrigerator
Not only adults who like to store groceries in the refrigerator. The children are the same. They love their stuffed toys in their toy fridge. Therefore, Lupin rattan toy refrigerator is the answer. A mini version of a real refrigerator, this refrigerator consists of two doors, top and bottom. The top door can act as if it could be used as a freezer. At the bottom of the door, there is also a bottle rack that can be used to put toy bottles. If this toy refrigerator is no longer used for playing, it can be used as a mini shelf to place your child's toys.
Cash register toy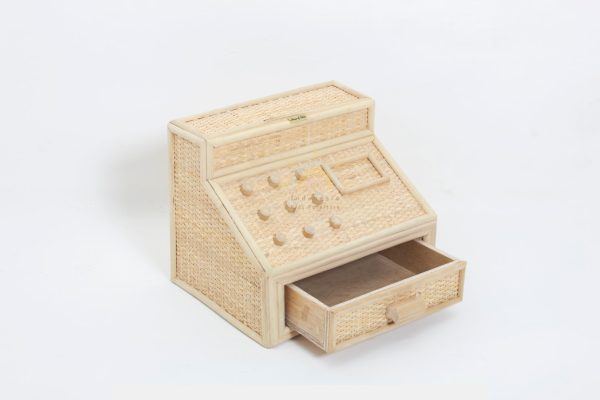 Shopping is something that every woman likes the most. This also applies to children. They like to go shopping with their mother. Drive around, pick up purchased items and pay at the cashier. They like to observe, even imitate it. One of them is when paying at the cashier. That's why we made a toy mini cash register that your child can use to play shopping with their friends. Equipped with nine small number buttons, and a small drawer that can be opened to place their play money. This cash register is made with a small size so that your child can easily move it.
Toy coffee machine
Drinking coffee is something that is very popular with people today. Even if you take your child to a coffee shop, the thing that makes your child curious is the process of making coffee drinks. Your child will observe how this barista mixes, processes and serves drinks. Maybe your child will be interested and imagine being a little barista when they play. With this toy coffee machine, you can make your child's wish to be a little barista come true. Equipped with several buttons on the top, and a handle that can be rotated. Your child can put a toy cup under it. This toy is very light for children, so your child is easy to lift it.
How about you, are you interested in some educational toys for your child to role play? With the recommended toy collections above, your child will not only play, but also learn to use household furniture at the same time. Our toy collection is not only that, you can see it on our product page. If you want to know price and size info, you can ask via live chat with our marketing staff, or you can click the contact us page.