Currently there are many kinds of models, designs and colors of children's storage. Many manufacturers compete to create products that will be glimpsed and liked by children. Of course as parents, can direct or choose according to your child's wishes. If your child still doesn't know what they want, then we can choose one for your child.
How to choose rattan wardrobe for your kid?
Of course, things to consider when choosing a wardrobe are size, color, design and safety for children. In choosing a wardrobe, the first thing to consider is the size, yes, is it the right size to be placed in your child's room? Not too big so it takes up too much space, and not too small so it can only accommodate a little of its contents. Then the design, we usually choose a beautiful design that can be adapted to the concept of the kid's room and the kid's personality. Most importantly the design is safe for you. There are no sharp corners so you don't have to worry if at any time your child accidentally scratches the cupboard. And no less important in choosing a wardrobe for children is color. The color of the wardrobe can be adjusted according to the gender of your child. If it's a boy you can choose a bold color, such as blue, black, or green. For girls, children can choose soft and beautiful colors, for example pastel colors, pink, soft red, peach or even yellow. But you can also choose neutral colors such as gray, white, cream, or soft natural brown colors.
Kinds of wardrobe material
In terms of wardrobe materials, you can choose materials that are safe for children, such as particle board, solid wood, PE, and natural rattan. Avoid choosing cabinets made of iron, metal or glass. Now there are many models, custom multifunctional wooden cabinets. Yes, a wooden wardrobe that is combined with a child's bed. The kid's bed is made on the top level, and the wardrobe is on the bottom. Of course this can save space in your kid's room. There is also a wooden wardrobe with sliding doors, so it won't take up much space to open it. There is also a wooden wardrobe with an open concept, so your child can easily take their clothes or their wardrobe. There are also closet models such as stacking shelves. Or a cabinet model with a plastic or rattan basket to store your children's toys or things.
Our storage furniture collections for kids
In addition to chairs, beds, and toys for children, we also have several storage collections that are suitable for placing in your child's room. Here is the model
Leony Rattan wardrobe
This wardrobe is our newest collection. The height is made just right for your child, so your child can easily take the inside of his cupboard. With a curved shape at the top, this wardrobe gives a soft impression. The door can be easily opened and closed, there are handle. Inside there are 2 sides, right and left. On the right side there are 3 stacking shelves that you can use to put your child's clothes and pants. On the left side there are 2 stacks, on the top you can store children's equipment such as bags or hats, while on the bottom you can hang a kid's shirt or dress. This wardrobe is made entirely of rattan. The frame is made with a large diameter rattan core, while the cabinet body is wrapped in close webbing rattan woven. Although this wardrobe looks light, it is sturdy and durable. Because it is light, you can move it easily as you wish.
Keen rattan cabinet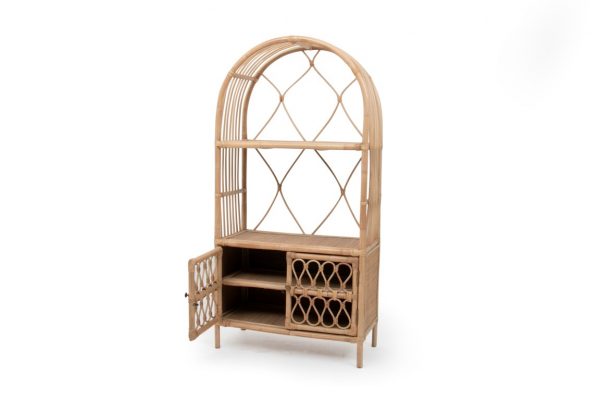 Different from the Leony wardrobe, but this Keen cabinet has an open shelf at the top. The design is also curved at the top, but at the back of the open shelves there is a spiral decoration that adds to the beauty of this cabinet. At the bottom there is a drawer with 2 closed doors that can be easily opened. The door is also made half open with a spiral decoration. Inside, there are 2 stacked shelves to store your child's knick-knacks, such as socks, scissors or children's writing utensils. While the upper part can be used to display photo frames, or for story books and photo albums for your child.
Moon rattan kids cabinet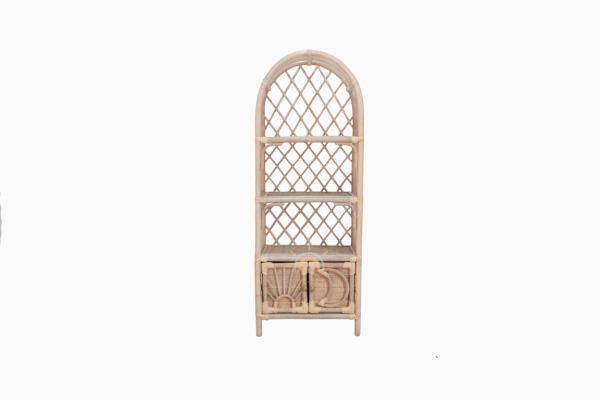 Just like the Keen cabinet, this Moon cabinet is also made half open with a shelf at the top. What distinguishes it from the Keen cabinet, this Moon cabinet is made with a smaller size. At the top there are 3 rattan shelves that can be used to display frames or arrange children's story books. On the back there is a rattan decoration that is made crosswise, so that objects placed on the shelf will not fall. At the bottom of this cabinet there is a closed drawer with 2 doors. The door decoration is made in the shape of the moon and sun. Not only in the children's room, you can put this cabinet in the family room.
Kia kids rattan shelf
Our concept for making this children's Kia rack is as a Kid's shoe rack. However, this shelf can also be used to store kid's toys. With 2 stacks, each stack has a drawer that can be pulled out to retrieve its contents. Make it easy for your child to take his own shoes. With the color of the shelf that is made different from the body, making this shelf more beautiful and unique. At the top you can put a pot or decoration that fits the concept of your child's room. Made with the right size for children, so this shelf does not require a large space.
Mini Kids small cabinet
As the name implies, this cabinet is mini in size. Consists of 2 upper and lower shelves, but can be used to store books, stationery, socks, or children's towels. The curved leg design adds to the aesthetic value of this cabinet. You can put it next to a child's bed, above it can be used to put a night light or mirror.
How about after seeing some of our storage furniture collections. Are you interested in buying it as a gift for your child? Or are you interested in selling it again in your furniture store? If you want to start a business but are still confused about what business to start, selling
kid's furniture
is the right business idea. because nowadays there is a lot of demand for children's furniture, especially
rattan children's furniture
. We always innovate to develop new children's furniture products and
children's rattan toys
. Because
rattan furniture
is becoming a trend in various countries around the world. To see our collection of products, you can click on the product page.