Many factors cause children to be lazy to study or do homework. Apart from the need to provide motivation, you as parents have to pay attention to children's learning facilities at home. No exception, the comfort and design of children's study tables. Having a special study room is one way for children to be more diligent in studying and the design of a comfortable study room will certainly make children not feel bored and will not lose focus while studying.
Here are some tips for arranging children's study rooms to be comfortable :
The study room must be separate from the bedroom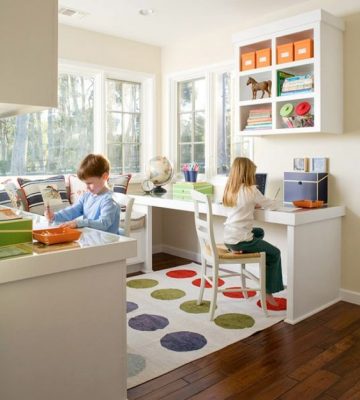 Arrange children's study room, first, by separating the study room from the bedroom, the child will not lose focus in learning. Often times, if the study room is combined with the bedroom, the child will be lazy to study and will prefer to relax on the bed so they will neglect their duties.
Use of a partition
If it is not possible to separate the children's study room from the bedroom or family room, then the use of a partition or cubicle is a solution that can be done.
Lighting
In children's study room lighting is very important and an extra concern. A study room with natural lighting from either a window or a ceiling would be great. However, if it is not possible to get natural lighting, then lighting can also be used, but you have to choose the type of lamp and preferably use white lights.
Selection of the right furniture
Last to arrange children's study room, in the study room, there are several study room furniture that must be prepared such as desks, chairs and study equipment. In order for children to be comfortable in learning, the selection of equipment must be considered.
With the idea of ​​an attractive children's study table design, of course children will also be more comfortable and active in studying, right?. However, regardless of the design of the children's study table that you choose, the most important key is the attention of parents towards children, especially in terms of learning. It is not enough to support learning facilities, parents must also actively participate in assisting children in learning.