Looking for a charming and timeless addition to your baby's nursery? Consider a rattan rocking horse! This classic toy has been a beloved staple in children's rooms for generations, and for good reason. This iconic rattan toy is loved by children from time to time. So that there are many shapes on the market now, not only horse-shaped, there are sheep, elephant, vespa, dino and many more. Not only is it adorable, but it also provides a fun and safe way for your little one to play and develop their motor skills. Read on to learn more about the benefits of a rattan rocking horse for your baby's room.
Rattan is a Safe Material for Children's Toys.
Rattan is a natural fiber material that is both safe and durable for children's toys. Unlike plastic or metal toys, rattan is non-toxic and does not contain any harmful chemicals. It is also lightweight and easy to move, making it a great option for little ones who are just learning to rock and play. Additionally, natural rattan is a sustainable material that is eco-friendly and long-lasting, ensuring that your child's rocking horse will be a cherished toy for years to come. Rocking horse toys are synonymous with rattan toys, thus giving a retro impression.
A Rattan Rocking Horse is a Timeless and Classic Addition to Any Nursery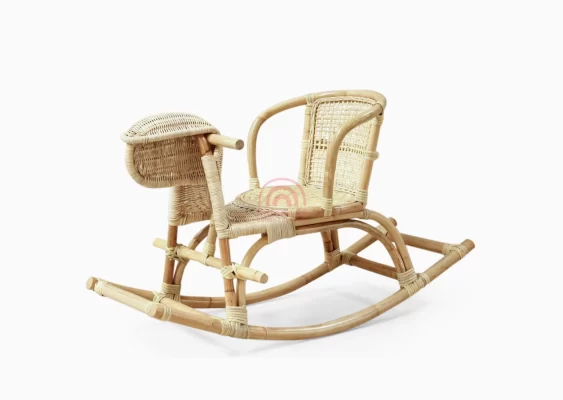 A rattan rocking horse is not only a fun addition to your nursery, but it also promotes your child's physical development. Rocking back and forth on a rocking horse helps to improve balance and coordination, which are important skills for children to develop as they grow. It also helps to strengthen their core muscles and improve their posture. Plus, the gentle motion of rocking can be soothing and calming for babies, making it a great tool for naptime or bedtime. Children can imagine as if they were riding a horse.
Read also : Rattan Coffee Machine Toys for Kids Who Want to Be Baristas
Rattan Rocking Horses are Stylish and Versatile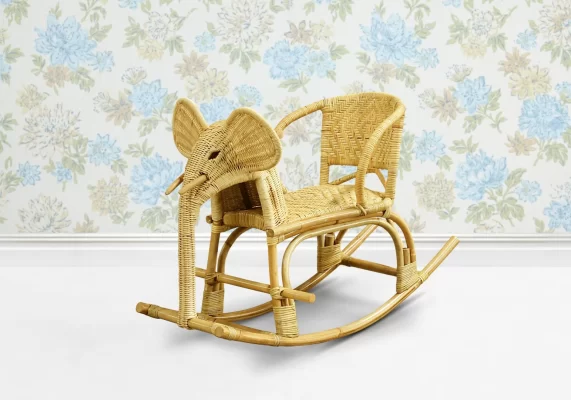 A rattan rocking horse is not only a functional addition to your nursery, but it also adds a touch of style and versatility. The natural material of rattan adds a warm and organic feel to any room, and the neutral color complements any color scheme. Plus, the classic design of a rocking horse never goes out of style, making it a timeless piece that can be passed down through generations. It can also be used as a decorative piece in other areas of your home once your child outgrows it. If you don't use it anymore, you can use this toy for photo props or as a room decoration.
Read also : Recomendations Children's Wicker Chair for United Kingdom
Supplier and manufacturer of rattan rocking horse
Isn't this rattan rocking horse interesting. Toys that will not run out by this era will definitely be in demand by children. From time to time the child never gets bored with this toy. As a manufacturer and supplier of kids furniture, we make these toys according to designs that children like. With high safety standards, our toys have been exported to various countries in the world, especially Australia and the United States. If you are a retailer and business owner of children's furniture or baby furniture, we have an interesting offer. Immediately contact our marketing to get the latest catalog and pricelist. Get the best deals.