Children's wicker chairs are already very popular in Australia and the United States. Not only in these two countries, children's wicker chairs are also starting to be loved by parents and children in United Kingdom. As we know, the United Kingdom is a country that is still thick with its culture, and many British people like retro and vintage designs. Like a rattan chair that has a very strong retro and vintage character. However, currently rattan chairs are not only designed with retro and vintage characters. The designers have adapted it to a modern or contemporary design. Can it? It's very possible, because rattan's natural raw material has flexible properties that can be changed in any form.
Children's Wicker Chairs recomendations
Nowadays many people are fond of rattan children's furniture. Many parents are very conscious about the environment. So they chose eco-friendly furniture, such as rattan chairs. Like the following children's wicker chairs designs that we recommend for United Kingdom. They look cute and We're sure you will fall in love when you see them for the first time.
Also read : Rattan Coffee Machine Toys for Kids Who Want to Be Baristas
Kala wicker children's chair
Kala kids rattan chair comes in blue color, is a great place for your kids to kick back and relax after a day of playing. With natural rattan material, it will look great in your living room or their bedroom. Your child can enjoy reading their favourite books, putting on their shoes or simply lounging and spending time with friends, family, pets and toys. Perfect for kids aged 3-6 years, this rattan kids chair is made with a rattan frame and provides a supportive base for kids and toys to sit with ease.
Bear rattan kids chair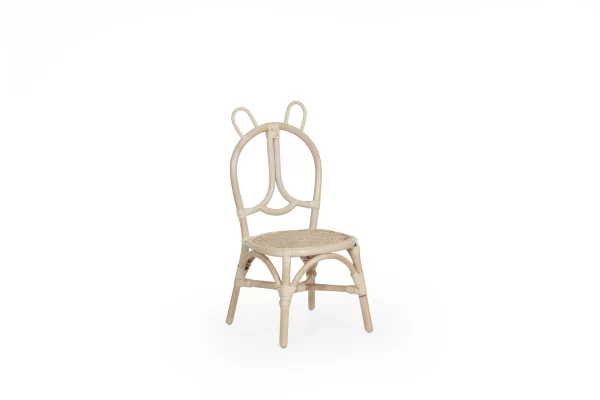 Bear Rattan Children's Chair comes in natural color, perfect for any little one who takes pride in having a comfy little chair they can call their own. The childs rattan chair have been perfectly designed for the children to move around freely and sit comfortably. The legs have protective pads to avoid denting or knocking your floor. This wicker children's chair made from high quality sustainable natural rattan, this adorable kids' chair makes a fun and stylish seating option for your little one. Set them up for playdates to sit around a table for crafts and creativity or a tea party. You can combine it in game rooms, dining rooms or bedrooms and create a comfortable and cozy corner.
Sani rattan kids sofa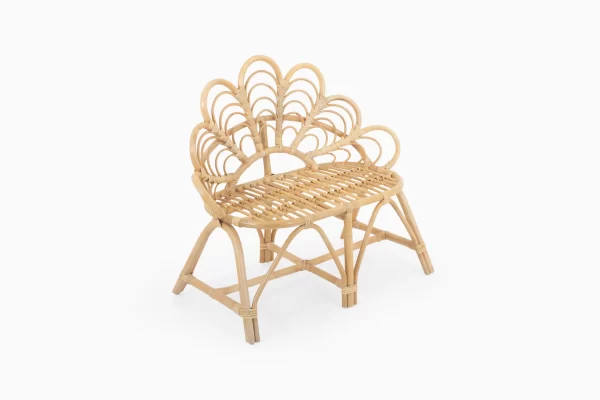 If your after a stylish super cute and comfy little lounge for for little ones, then Sani rattan kids sofa is your piece. Make them feel like they are in a fairy tale by completing their bedroom or playroom with the cute Sani rattan kids bench. Flower pattern on the back make it stand out in your home.  Our Sani Kid's Rattan Bench also makes a lovely piece of furniture to display dolls.
Read also : How to Style a Rattan Doll Bed in Your Child's Room
Rania wicker children's chair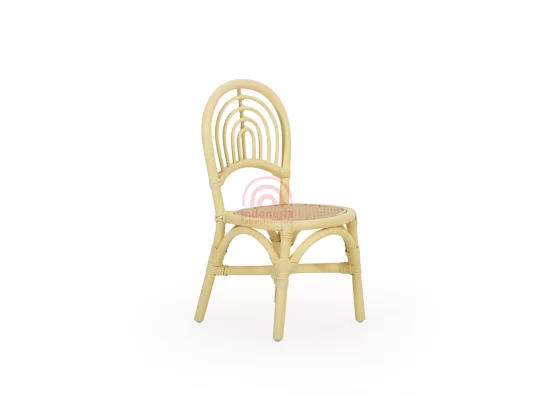 Rania kids rattan chair, you can create a modern coastal rest zone in your kid's room with this children chair. This wicker boho chair has a timeless natural and bright finish that fits any home decor. Its structure is extremely stable and resistant thanks to meticulous hand weaving and attention to every detail. Features a water-based finishing coat on the rattan that is non-toxic to keep your little one safe from harm while keeping your furniture long-lasting. 
Mikey wicker children's chair
Mikey wicker children's chair, comes with a natural style and an original design . A rattan children's chair that combines a braided seat with the woventechnique with a tie shaped backrest that provides perfect comfort for our little ones. Made of rattan, a highly resistant material. Mikey wicker kids chair will be the perfect ally for moments of fun and learning for the little ones in the house. You can combine it in kids rooms, play room or bedroom and create a comfortable and cozy corner.
Cute and adorable, don't you see the design and color of the child's wicker chair above. With soft colors that many children like, we are sure that this children's wicker chair will make your child's room or children's playroom look playful. Not only with the colors above, we also accept custom colors and designs for children's wicker chairs. With minimum order terms and conditions. In addition to children's wicker chairs, we also have recommendations for kid's rattan furniture, which are in accordance with furniture trends in the United Kingdom. Contact our marketing to find out information on our children's furniture.