One of the most important baby equipment is a baby crib. However, choosing a baby bassinet that is right for your little one is not easy. Of course you must prioritize the safety and comfort of children, especially babies who are under 2 years old. Because, at that age period, their organs and physical growth are not yet perfect, so they need a little extra attention and care.
To make it easier for you to choose, we will explain tips to choose a baby bed . We will also provide a list of recommended baby crib in this article. Of course you want a baby bed that is durable and fits the space for you and your little one.
Here we write some tips for choosing a baby bed
1. Check the safety of the product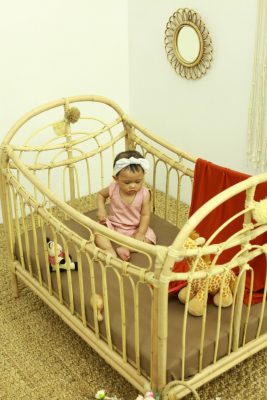 The first thing in choosing a baby bassinet is about the safety of the baby bed. Safe baby beds are made of quality materials, sturdy in terms of construction and are not sharp, and from the paint used are non-toxic and safe for babies. If you buy a baby crib, you should pay attention to these details carefully. That way, your little one's safety and comfort will be maintained. Also make sure to check the safety standards on the product. In addition, there is nothing wrong with checking the safety of the material for your baby's crib. If the material is baby friendly, your little one will still be safe even if for example licking or inserting the grille into the mouth.
2. Choose a bed that can easily slide as needed
It's true that your little one can sleep in a crib like anything. However, a product that is easy to use will certainly be more functional. There is nothing wrong with choosing a baby bed made of lightweight material, for example natural rattan. So it is easy to slide according to your needs. Moreover, your activities as a parent will often change. For example, you might do household chores during the day and get ready for bed in the bedroom at night.
If the product of your choice has wheels, you can move it right away where it is easily seen. The closer the box is to your activities, the faster you can respond when your little one cries. Apart from that, you can also check your baby's condition more easily at regular intervals.
3. Easy to clean
Almost all babies do their activities in bed, so we always have to clean them. For that in choosing a baby basket, choose one that is easy to clean. Rattan baby bed is very easy to clean, just wipe it with a soft cloth with a little water and detergent. So you don't have to bother to wash it with a brush.
4. The size of the baby bassinet
Based on the size, there are two types of baby cribs. Regular products are 120 cm × 70 cm in size and mini products are 90 cm × 60 cm. However, the products on the market themselves have a variety of other sizes that you can choose from and so do we. You just have to choose a product whose size matches the location where it is placed in the room. Both regular and mini products are actually set to last for approximately 24 months.
Because the size and function of each baby crib also varies, think carefully about your life with your baby later and choose the one that can be used optimally according to your needs at home. Hopefully our tips to choose baby bed can help you. For various kinds of baby boxes, you can click on the rattan baby bassinet product page. May be useful.