In the heart of every child lies a world of wonder, waiting to be explored. Imagine walking into a store that transforms this wonder into tangible magic – a haven where rattan toys and kids' furniture create a realm of joy and imagination. Welcome to our collection, where creativity meets craftsmanship, and where dreams come to life.
Rediscover Playtime with Rattan Toys
In a world of digital screens, our rattan toys take kids back to the authentic essence of play. Delicately crafted with the timeless charm of rattan, these toys bring a touch of nature to the hands of little adventurers. Among our treasures is the enchanting Rattan Doll Pram, a masterpiece that beckons young ones to weave stories and adventures as they stroll their favorite dolls or plush companions. This pram embodies elegance and playfulness, inviting kids to nurture their imagination while embracing the beauty of craftsmanship.
Kids' Furniture: Where Comfort Meets Whimsy
kids furniture collection
At the heart of our collection lies the belief that kids' furniture should be more than just functional; it should be a canvas for creativity. Our range of rattan kid's chairs epitomizes this philosophy. Each children chair is not just a seat but a throne for storytelling, a stage for drawing, and a sanctuary for daydreaming. Crafted with attention to detail and designed with a flair for the whimsical, our kids' chairs blend seamlessly into your shop's enchanting atmosphere.
Read also : Elevate Your Retail Business with Wholesale Rattan Nursery Decor Supplier
Rattan Dolls Furniture: Miniature Dreams, Lifelong Memories
rattan doll furniture collection
Dolls are more than toys; they are cherished companions on the journey of childhood. Our Rattan Dolls Furniture collection offers a whimsical array of miniatures that allow kids to create cozy havens for their cherished dolls. From tiny beds adorned with intricate rattan weaves to charming miniature chairs that mirror our larger designs, these pieces spark creativity and open doors to endless storytelling possibilities.
A Delightful Christmas Stock Idea
As the holiday season approaches, what could be more heartwarming than a shop adorned with rattan toys and captivating kids' furniture? Picture a display that captures the essence of Christmas gifting, where each piece tells a tale of imagination and joy. From the Rattan Doll Pram adorned with a festive bow to the Kids' Chairs inviting little ones to find a seat for Santa's tales, our collection lends itself perfectly to the spirit of gift-giving and holiday magic.
Read also : Discover the Perfect Kids Chairs for Sale at Indonesia Kids Furniture!
Experience the Magic: Your Kids' Furniture Supplier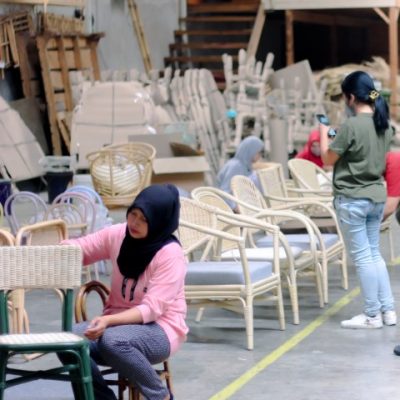 As a kids' furniture supplier, we take pride in curating collections that inspire wonder and creativity. Our rattan toys and kids' furniture don't just fill a shop; they fill hearts with joy and minds with endless possibilities. Step into a world where playtime knows no bounds, and where your shop becomes a haven of enchantment for both kids and their grown-up companions.
Read also : Exploring the Magic of Children's Wicker Chairs: A Must-Have for Furniture Wholesalers and Rental Companies
Contact us today to explore our captivating collection of rattan toys and kids' furniture. Let's embark on a journey of imagination together, where each piece becomes a portal to a world of endless fun and boundless creativity. Elevate your shop with the magic of rattan – a gift that keeps on giving, long after the wrapping paper is gone.